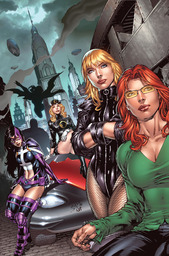 Are you a woman who reads comic books? Why not let the world know? Or the people of Perth, anyway.
In honour of International Women Read Comics In Public Day (wow, that's a mouthful), Swancon will be holding a public gathering to celebrate women in comics!
When: Sunday, 2nd September 2012
Time: 12:00pm
Where: Synergy Parkland, May Drive, Kings Park
What To Do: Bring along your comic books and a picnic lunch. Sit down, read comics, enjoy!
Bonus points if you dress as your favourite comic book character!
We will be taking pictures to post on the Swancon website and Facebook. We will ask permission before taking an individual's photo, and ask that everybody show the same courtesy to their fellow participants.
Children are welcome at this event with parent/guardian supervision.

News
Published: 19:23 on Aug 16, 2012 (GMT)
Last Updated: 13:59 on Aug 17, 2012 (GMT)