Venue – The Ibis Styles Perth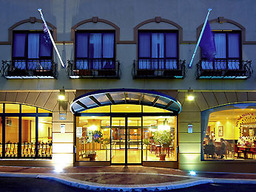 SwanCon 2013 will be held at the Ibis Styles Hotel (formerly the Acacia and All Seasons Hotel), located at 15 Robinson Ave, Northbridge.
Between 2006 and 2010, the Ibis Styles hosted five excellent SwanCons and the 2013 committee is excited to be returning to this much loved venue.
You can contact the hotel on 9328-0000.
Directions and Parking Information
For directions and info on parking at and around the hotel, please see this guide.
Hotel Booked Out
Unfortunately the Ibis Styles Hotel Perth is now FULLY BOOKED for Friday, Saturday and Sunday nights (29-31 March).
The Governor Robinsons (next door) is also Fully Booked over Easter.
Listed below are some nearby alternatives. The Swancon Committee does not endorse these hotels and we advise members to make their own enquiries using review sites such as Trip Advisor.
Dormitory Style = $28 per night or $30 per night
Private Rooms = $70 for single or $72 for double
http://www.shiralee.com.au/
107 Brisbane St, Perth 6000
Ph: 9227-7448
Fax: 9228-0905
info@shiralee.com.au
Dormitory style – $28
Private rooms – $70, single $68
http://www.backpacker.com.au/
41-43 Money Street, Perth 6000
Ph: 9227-1234

(some availability)
Dormitory – $32 per night
Private – $80 per night
http://www.coolibahlodge.com.au/index.html
194 Brisbane Street, Northbridge 6003
Ph: 9328-9958
Fax: 9227-6231
FREECALL: 1800-280-000

(still has a few rooms available)
$190 per night
http://www.hotelnorthbridge.com.au/
210 Lake Street, Northbridge 6003 (cnr Brisbane Street)
Ph: 9328-5254
Fax: 9227-7494
hnb@hotelnorthbridge.com.au
Published: 16:37 on Oct 29, 2012 (GMT)
Last Updated: 11:57 on Mar 27, 2013 (GMT)